3 Tips for Making the Most of InfoComm18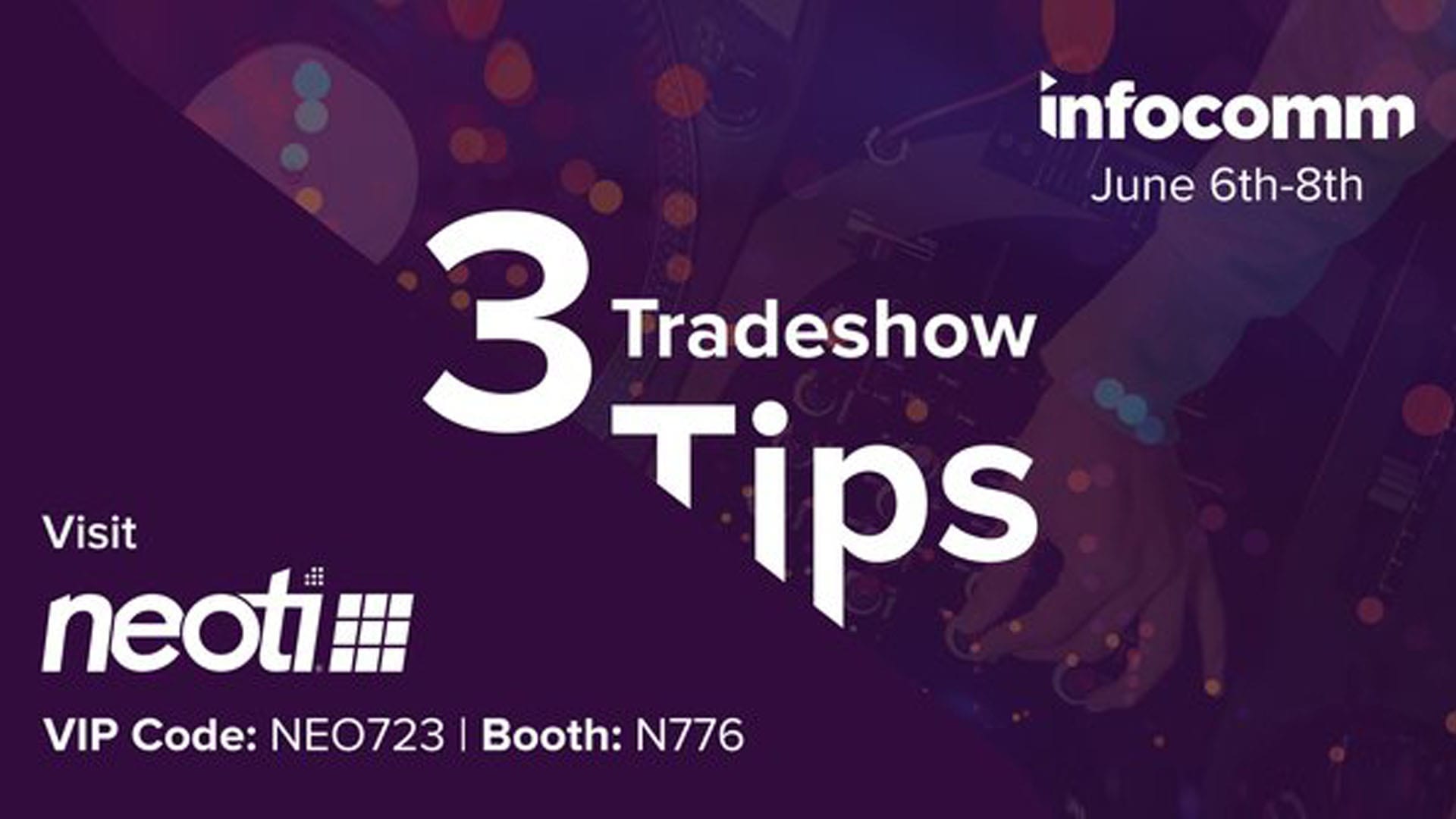 Going to InfoComm18? Great! So are we. Here are 3 tips to help you get the most out of your tradeshow experience.
1) Have A Plan, Work the Plan
While tradeshows can be a lot of fun, there is still a certain amount of work that must be put in to ensure maximum benefits. Just like in every other area of business, a plan is essential to making sure everything runs smoothly.
First, determine your objective
Are you an attendee looking for new products for your own studio? Are you an integrator looking for new products to better serve your customers? Do you want to compare brands and manufacturers? Is this primarily a networking event for you?
Knowing what you want to accomplish when you walk in will help put you in a more productive mindset.
Look at the floor plan
Fortunately, InfoComm provides several resources for you to physically map your tradeshow visit. One of the more useful tools is the InfoComm Show Map. With this map you can view the building, see the floor plan for each hall, search by keyword, and more.
We've all been to tradeshows before. It is easy to get lost in the labryinth of signs, displays, voices, and activity. Having a route based on the floor plan will ensure that you will at least hit the booths most important to you.
Plan some free time
Always build in some free time. This free time can serve as a buffer when you run into that former coworker or old pal from college. Free time also allows you to learn from the unexpected. Perhaps you run across an innovative solution that you have heard of but never really considered. That free time will allow you to linger and ask questions or gather pamphlets.
As much as we like to say it, we can never truly plan for the unexpected. We can however, schedule free time that will help us encounter the unexpected and accomplish our tradeshow objectives.
2) Don't Forget About Educational Opportunities
What can you learn
Is there a new skill you want to learn or an existing skill you can build upon? Is there a skill you want your team to learn? InfoComm provides several educational opportunities.
Who can you meet
Are you looking for like-minded individuals to join your team or a new buddy that shares your passions? Marketing will tell you, the best way to meet someone, is to go to where they already are. Did you notice an educational opportunity with a theme that made your heart sing? Perhaps someone else felt the same way. Attend that educational opportunity and you can be sure to find someone with similar interests.
Who can you help
InfoComm attracts everyone from hobbyists, to novices, to experts in their field. It is easy to look for expert advice, but don't end there. Think of who you can help. We were all novices once.
3) Be Social
Attend gatherings formal & informal
Don't forget about the social aspect of InfoComm. There are plenty of social events listed on various pages of InfoComm's website. Plan to attend a couple. You may have already received email invitations. Network. Attend formal gatherings. Attend informal gatherings that happen organically. The AV industry thrives on relationships. People thrive on relationships. Don't miss this opportunity to be social.
Be social online
Don't forget to be social online. Use #InfoComm18 and be discovered. Follow the hashtag and learn who is there, what they are doing, and what excites them. Provide shout outs for your friends. They will appreciate it. Let your voice be heard and provide some authentic commentary for some of the sessions. Being social online lets you learn about others and lets others see who you are. It's networking from your phone – and it can be fun too!
*Bonus Tip – Visit Neoti
Visit Neoti's booth at N776. We will be featuring our Universal Panels. Learn the benefits that LED walls can provide for your next event or tradeshow. Not only does Neoti offer exceptional products, but we are US based, customer focused, have popular products readily available for quick turn around, and a dedicated US based repair service center where we service all of our own products as well as products by most other manufacturers.
If you don't have a pass already, use Neoti's VIP pass and visit the InfoComm Registration Page and enter code NEO723.
We hope to see you at InfoComm18!