Neoti Has Record Year In 2018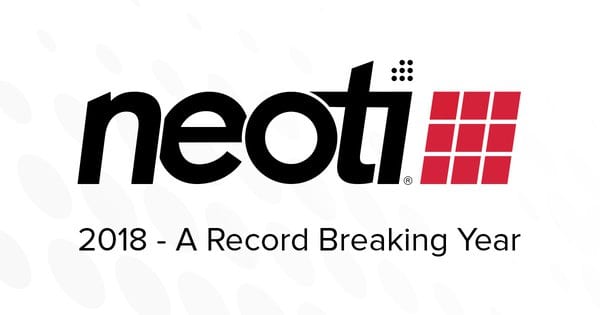 As we reflect over 2018, we are grateful for the opportunities that have enabled us to reach a record year. We forged new relationships, nurtured existing ones, invested in growth, and completed some spectacular LED Video Display installs through our partnership network. Along the way, we took steps to maintain the exceptional service you have grown to expect from Neoti!
Introduced A New Product To The Market
In the midst of rapid growth and an expanding team, Neoti introduced a new product to the market at NAB 2018. Neoti's UHD LED Series panels come with front-accessible maintenance capabilities and feature an industry-leading design that can be installed directly against a wall, eliminating the need for dedicated rear-access space. This series can come with both power and data backup to ensure uninterrupted operation. Neoti's UHD LED Series is perfect for the Broadcast Industry, as well as any industry that requires high definition, fine pixel pitch LED displays with quick refresh rates and strict dependability.
The UHD LED series has quickly found its way into several studio applications including The Weather Channel, Meet The Press, Morning Joe, and WUSA (many of which are highlighted in the video below)
Expanded Our Network
At an InfoComm 2018 pre-party, Neoti & Starin formally announced a new distribution partnership. Starin is an experienced market development and distribution company with decades of experience in the AV industry. Their focus is on bringing the best solutions and services to their vast reseller network. Neoti is a US-based​ award winning pioneer of innovative LED signage that prides itself on innovation, customer care, and exceptional service – including a US-based LED service and repair center.
It is the sincerest belief of both Neoti and Starin that this intersection of a quality AV distributor and an innovative, yet personable LED company will not only meet the needs of a growing industry but will delight the customer as well.
"When a decision is made to invest in an LED Display, the customer wants to see the ROI on that investment ASAP, Neoti and Starin are partnering to meet this challenge. Not only can a customer expect quality products and services, but a highly reduced lead time with installation ready LED Displays." – Derek Myers, President of Neoti.
Welcome 2019
As the dawn of the New Year is upon us, we are positioned for another great year ahead of us.