Sports LED Video Display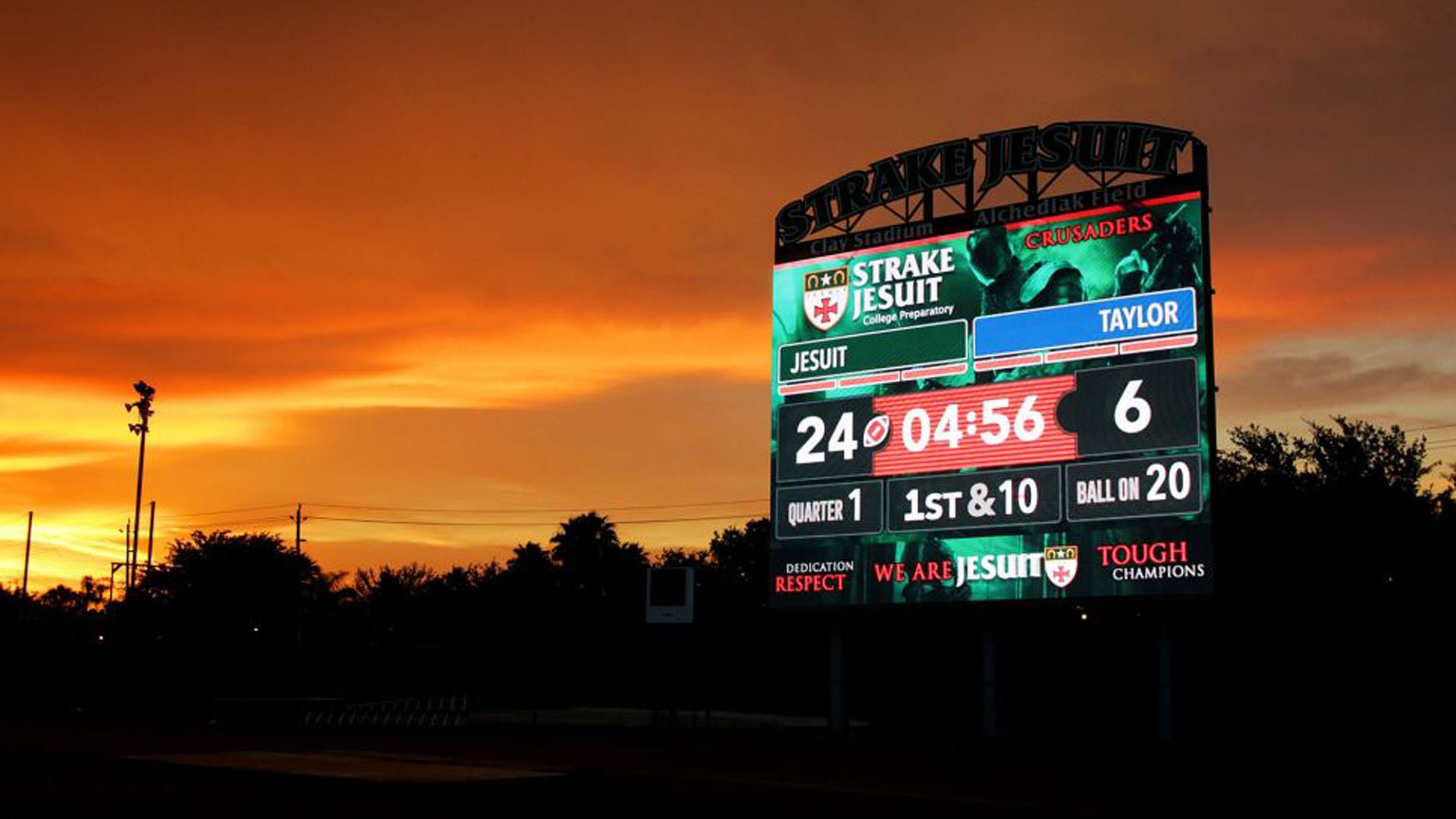 Why Let the Professional Sports Teams Have All the LED Fun?
Think about the last time you attended a professional sporting event. What was so memorable about it? The fan energy? The talent on the field? Perhaps you recall a vibe of camaraderie and excitement? Chances are a big part of the atmosphere was fostered by several video displays around the venue.
Professional sports facilities sport some of the largest LED screens in the world. Because these dynamic and eye-catching installations act as showcases of the size and capabilities of LED screens, colleges and high school sports teams alike are beginning to see the opportunities LED screens offer. LED video displays can entertain the audience, serve as a source of revenue, and give fans fantastic close-ups of the games biggest plays.
LED Screens Engage Your Fans
Whether at the professional, collegiate, or high school level, sporting events need to communicate information and provide messaging to their devoted fans and attendees. LED screens are a great way to accomplish this task in a way that is entertaining. They can replay the best plays, maintaining high excitement levels. During timeouts, it's fun to zoom in on the fans in the stands. Let your attendees have their fifteen minutes of fame. Sell ad space or capitalize on downtime by promoting your own organizations upcoming events on the big screen. All of these unique applications keep your LED screens active—and your audience engaged—from the moment the gates open up to the time they close.
The New (Less Expensive) Normal
LED screens are the new normal for sport venues of all kinds. They offer outlets a unique way to engage and communicate. The best news is that LED screens are far less expensive than they used to be, making budget constraints less of a concern.
Make The Investment
Investing in a new LED screen for your school or university's arena will create positive returns in audience engagement as well as add a new revenue source to your organization. Why stick with older technologies that are limited in regards to both in-the-moment storytelling and long-term promotional opportunities? In other words, why let the big sports franchises have all the fun?
Invest In The Right LED Display
Neoti has the perfect LED Video Display solution for your sports venue. Whether you need to install an LED Video Display inside or out, we have the right digital signage solution to match your needs. With Neoti, you will discover that your needs come first.